The Kernochan Center for Law, Media and the Arts was established to contribute to a broader understanding of the legal aspects of creative works of authorship, including their dissemination and use.

Center faculty and staff are pursuing university-recommended policies and are in the office on a limited basis; however, the Center remains reachable by email at kernochancenter@law.columbia.edu. 
Justice Breyer's Copyright Legacy
On March 20, 2023, Kernochan Center Faculty Director Jane Ginsburg will take part in a panel discussion of Supreme Court Justice Stephen Bryer's legacy in copyright policy, hosted by the Copyright Society of America.  Other panelists include Dale Cendali (Supreme Court practitioner and partner at Kirkland & Ellis), David Nimmer (professor of law, practitioner, and author of the updated treatise Nimmer on Copyright), and Pamela Samuelson (professor of law and director of the Berkeley Center for Law & Technology at the University of California, Berkeley), moderated by Regan Smith (lecturer of law at The George Washington University and Head of Public Policy, Government Affairs at Spotify).  Registration is free, with an additional cost for CLE attendance, and a limited in-person capacity of 75.
KERNOCHAN CENTER SYMPOSIUM
"The Art of Looking: Ethics in Photography"
In an increasingly complex world where photographic images can be distributed worldwide with the click of a button, concerns about ethics in the industry are on the rise.  Whether photographing on assignment, in the street, or for purely artistic purposes, photographers are on the front lines.  Where do they draw the line between documenting reality and intruding?

Join us for a symposium "The Art of Looking: Ethics in Photography" at Columbia Law School, Room 101, on February 10th at 3:00PM.  Panelists include photographers Nina Berman, Donna Ferrato, Gail Halaban, and Kay Hickman, National Press Photographers Association General Counsel Mickey Osterreicher, Professor Amy Adler, and creative director of Aperture, Lesley A. Martin.  

Unfortunately, due to a technical error, only the audio of the last hour of the event may be made available to scholars.
Symposium 2022: Under PRESSure: Legal Protections, Regulations and the Future of Press Publishing
Friday, October 21, 2022
Columbia Law School
9AM to 1PM
Declining revenues have put press publishers in a precarious position.  Traditional publishers contend that platforms' practice of news aggregation is diverting readers and advertisers from the publishers' websites.  Yet no publisher wants to be de-listed from Google and other platforms.  How severe is the problem of news aggregation?  What legal solutions may there be?  This year's Kernochan Center symposium examined why the press is floundering, whether the 2019 EU Copyright Directive's sui generis IP right for press publishers offers an appropriate response to save the industry, and whether legislators should look to copyright or antitrust law for a solution.
For readings, speaker bios, and a complete schedule, please see our Symposium 2022 page.
Alumni in Arts and IP
The Kernochan Center hosted its annual evening for Alumni in Arts and IP on October 13, 2022.  Four alumni of Columbia Law School gathered to discuss their careers and what they wish they'd known in law school, and gave advice to the current students interested in entering the field.
Guest Speakers:
Joel Feigenbaum '17, Assoc. Counsel, Digital Legal Affairs, Warner Music Group
Kate Saba '17, Associate, Debevoise & Plimpton LLC
Hunter Vanaria '16, Counsel, New Media, Marvel Entertainment
Elizabath Wang '90, Principal, Law Offices of Elizabeth Wang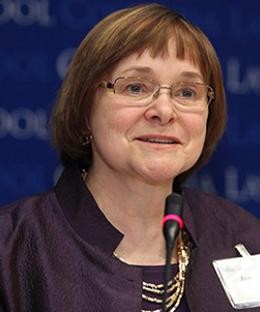 The Kernochan Center announces the retirement of long-time Executive Director June Besek.  Ms. Besek began in 1999 as the Center's Research Director, assuming the duties of Executive Director on the retirement of the Center's first Executive Director, Adria Kaplan. 
As Research Director, Besek helped prepare the 2001 International Congress of the Association Littéraire et Artistique Internationale (ALAI).
As Executive Director, Professor Besek was instrumental in expanding the Center's course offerings and programming.  She taught two seminars, one on the rights of authors, artists and performers, and the other on advanced topics in copyright with Center Faculty Director Professor Jane Ginsburg.  She was an advisor to countless students.  Whether it was shepherding them through the Note process, hiring them as Research Assistants or advising them on career moves, numerous leaders in the IP field who got their start at Columbia Law School note that they were inspired by Besek's passion for and aptitude in the field of copyright. 
Outside of her Law School duties, Besek was a leader in copyright policy.  She was active in the American Bar Association's IP section, serving as it's Chair from 2020-2021.  In addition, she was the ABA's representative to the ALI's Restatement, Copyright project, collaborating with Professor Ginsburg to offer extensive comments on the drafts presented thus far.  She also served on the Copyright and Literary Affairs, the Entertainment Law and the Trademark Law Committees of the New York City Bar Association for many years.  She was Vice President and Secretary of ALAI-USA for over 15 years.
A full tribute will appear in our year-end letter, but we wanted to immediately acknowledge her contributions here.
The Kernochan Center congratulates the graduating students awarded our Intellectual Property prizes!
The Caroll G. Harper Prize, for graduating students who attain the highest standard in IP studies and writing: Alison Robins and Jake Glendenning.
The Michael D. Remer Award for a graduating student whose activities and achievements demonstrate an aptitude for IP law: Gili Karev.
The Andrew D. Fried Memorial Prize for the best student essay on IP law published in the Journal of Law & the Arts: Gersham Johnson for his Note, "The Last Line of Defense: Addressing Section 512(g)'s Dwindling Capacity to Protect Educational Fair Users on the Internet."  
The Thirty-Fourth Horace S. Manges Lecture
"Art, Music, and Mash-ups — A View from the Bench on Creativity and Copyright"
The 34th Annual Horace S. Manges Lecture was given by the Hon. Margaret McKeown of the Ninth Circuit Court of Appeals on Monday, April 4, 2022, 6:30 p.m., at Columbia Law School, in Room 103.
Spring IP Speaker Series
The Kernochan Center regrets that due to University safety policy, we cannot make the 2022 Spring IP Speaker Series open to the public.  Please check back to learn of any revisions to this policy.
At the Kernochan Center, faculty and staff produce original scholarship in the field of intellectual property.  We involve our students in our research and we also strive to recognize their excellent scholarship in their own endeavors.  From time to time, we will highlight some of that scholarship on our website. 

Please visit our Showcase to read the work our faculty and staff have selected.